The sign up for this year's Odense Investor Summit has recently opened. Odense Investor Summit is an annual event where capital seeking companies and investors meet. This year the event is held for the third time, and each year the investments in new technologies increase. The focus of the event lies in robotics, drones, automation and health tech. 
Odense Investor Summit, 12th September 2018, 14:00-20:00 at Odense Congress Center – read more and sign up here

In Odense we have Denmark's largest concentration of robotic companies, and by recent acquisitions of first Universal Robotics and latest Mobile Industrial Robotics the rest of the world has also noticed the robotic cluster in Odense, which is one of the biggest in Europe.
Odense Investor Summit creates a platform where highly specialized companies and investors with insight in new technologies can meet. The investors represent 'smart money' and risk capital, which also generates knowhow and network to the capital seeking companies.
"In and around Odense we have an inspiring robotic environment with a great global potential. They only lack the right investors to create significant growth. At Odense Investor Summit we match the capital seeking companies and investors. We bring partners together, which normally do not move in the same circles. It is a focused effort, which all partners around the industry see great value in" Michael Hansen, Investment Manager, Odense Seed and Venture, says.
Last year, more than 20 capital seeking companies and more than 100 investors within robotics, drones, automation and health tech participated at the event. Odense Investor Summit 2018 is the largest meeting place for potential investors and capital seeking companies in Denmark and Scandinavia.
"We see a great potential in Odense Investor Summit for both the companies and the investors. Nordea is once again the main sponsor because we want to support the development of strong, innovative technology companies. There are times, where this type of companies need a partner to manage the growth together with them – and we would like to create the framework and help establish a platform for such a partnership", says Tommy Bøg Thomsen, Regional Director for corporate customers at Nordea.
Keynote Speakers
The program of Odense Investor Summit contains both interesting pitches as well as keynote speakers. During the day there will be approximately 10 investor pitches at the main stage and two keynotes.
The first keynote speaker of the day will be Helge Holm-Larsen, CEO at Syddansk Innovation (SDI). SDI is an early (pre-seed) investor in tech and high innovation and with a portfolio counting more than 60 companies, Helge will provide an insight in 6-8 companies looking for funding.
The second keynote speaker of the day will be Anders Bundsgaard, CEO at Odico. Odico is the first Danish Robotic IPO at Nasdaq. Anders will on Odense Investor Summit present Odico's journey towards being the first Danish Robotic IPO at Nasdaq by going through key learnings, do's and don'ts and the plan and possibilities for the global growth that the money from IPO has provided.
In collaboration with R-18
This year, Odense Investor Summit is held in collaboration with the robotic fair, R-18; a side-event to the electronical fair, E-18. R-18 is held for the first time and takes place 11th – 13th September 2018 in Odense Congress Center.
The robotic fair focuses on business possibilities and the distribution of digitalization, automation and robot technology to more and new business areas. Here, some of the world's brightest robot developers are brought together with the industry, robot producers and software suppliers in a context, where they also meet decision makers, buyers, engineers, entrepreneurs and specialists.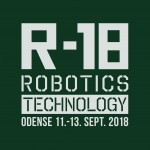 During the three days, R-18 has different themes counting Export, Scaleup and Strategic HR & Recruitment.
The first day at the fair, Tuesday 11th September, has a focus on export. The Danish Minister of Foreign Affairs will open the fair with the theme of digitalization, automation and Industry 4.0 and hand out The Trade Council's prestigious export prize: The VITUS-prize. Wednesday 12th September, the fair takes on a startup and scale-up perspective by introducing you to how you can scale your business from startup to a big international player at the market. Further, you will gain insight into Odense Robotics, which is one of Europe's largest robotic clusters. The theme of the last day of R-18, Thursday 13th September is Strategic HR & Recruitment, addressing people who are curious about what the future labour market in tech brings.
Further information:
Investment Manager
Michael Hansen
MHANN@odense.dk
+45 2341 4007