The new robot fair R-18 started off well. Over a period of three-days (September 11th-13th), 5071 people visited the two simultaneous fairs R-18 and E-18 at Odense Congress Center.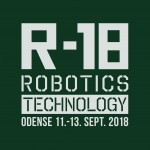 "I'm proud of the new robot fair. There has been a really intense and good mood in the robot hall all three days, and at the same time we managed to attract more than 5000 visitors to R-18 and E-18, it is extremely satisfactory," says Søren Therkelsen, Project Manager for R-18 and E-18.
R-18 is organized in collaboration with Odense Robotics, City of Odense, UAS Denmark, Odense Seed and Venture, RoboCluster and University of Southern Denmark.
New fair to come
R-18 also attended a number of conferences with national and international speakers like Amit Kumar from Softbank Robotics, Etienne Augé from Erasmus University Rotterdam and Alf Rehn from University of Southern Denmark. There were also a number of Danish companies presenting their work in implementing robotics and digitalization in the conference program.
"We are pleased with the great interest in R-18, and we look forward to bringing exhibitors and visitors back to a new robot fair in 2019 or 2020," says Søren Therkelsen.
Further Information:
Investment Manager
Bjørn Polenz
bjpo@odense.dk
+45 8174 7050