Odense is a rapidly growing modern city with a dense, vibrant city centre, diverse cultural life, green oases and active local communities. Odense is experiencing an ongoing transformation: Between 2012 and 2022 approximately € 5 billion will be invested in strategic urban development and new real Estate.
A growing population, the building of the New University Hospital and Facebook's data center, new tramway, new companies established, great educations and plenty of events happening. At the same time, Odense offers ideal conditions for commercial real estate investors – great yields, low risk and low transaction costs together with several new urban development areas. Do you need more reasons to invest in real estate in Odense?
Meet us at MIPIM!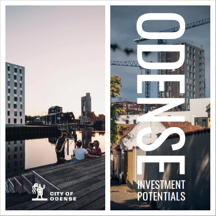 If you want to hear more about
opportunities to invest in Odense's
grand transformation, get
connected to:
Jes Zinck Severinsen
Investment Manager
jeszs@odense.dk
+45 30913651
What is happening within Real Estate in Odense?