For your business too? Danish robot developers build robots for a wide range of sectors
Which sector do you work in? Are you busy? Do you still have to handle a lot of manual tasks and processes every day?
Read on and check out the list of Danish robots, cobots and automation solutions which could be helpful in your workplace. 
Combining human skills with the cutting-edge capabilities of robot technology
First, humans invented mechanics. Then came automation and robots. Now a third and even more sophisticated development is in full swing. It combines mechanics and technology with artificial intelligence. Autonomous systems are machines or solutions capable of sensing, planning, and acting in changing environments.
Employees' experience, knowledge and professionalism are encoded into the algorithms. And the machines are programmed to process large volumes of complex data and identify patterns that the human brain cannot spot. Combining human skills with the cutting-edge capabilities of robot technology enables us to solve challenges and work smarter.
Robots as key to solve labour shortage
Employers are struggling after The Great Reshuffle, where many workers quit their jobs and sought employment elsewhere, in search of improved work-life balance, flexibility, increased compensation, and strong company cultures. But cobots and robots don't leave their jobs. Nor do they take your job. As it turns out, that is the wrong thinking, and by a long shot.
A Korn Ferry study shows, that it is not that robots that are taking all the jobs – the issue is that there are not enough people to fill all the vacant positions. The study finds that by 2030 there will be more than 85 million job positions that may be unfilled because there aren't enough skilled people to fill them. The number is roughly equivalent to the population of Germany.
The global labor shortage drove a surge in industrial robot sales in Europe, Asia, and the Americas in 2021. According to the International Federation of Robotics, a record 486,800 units was shipped globally – an increase of 27% compared to the previous year.
So, let's automate in industries other than manufacturing to make these jobs more attractive and efficient.
Are you a farmer or a forester?
Sustainable agriculture and food production need robots. Danish agriculture is among the world's most efficient and has much knowledge-based agricultural clusters. Since 1990, Danish farmers have produced more and polluted less. As a part of their toolbox, they use following Danish robots:
Are you a wind farm operator?
Maintaining and repairing wind turbine blades: Rope Robotics
Servicing wind turbines with a flying crane: AirFlight
Are you a developer or contractor?
Do you work with urban services and facility management?
Are you a healthcare worker?
Do you work in retail or e-commerce?
Automating the transportation process in Click & Collect and Restocking in supermarkets: Coalescent Mobile Robotics

Minimizing manual pallet handling with: PALOMAT
Picking and storage optimisation to improve efficiency and floor space utilisation: EffiMat
Are you a baggage handler in the avian industry?
Automated handling of luggage and commercial parcels at airports: Cobot Lift
Are there other Danish companies we can add to the list?
If so, please contact us immediately and we will update this article.
Please note: Some of the above-mentioned Danish robots are also deployed in the manufacturing industry. Some were explicitly developed for manufacturers' needs, but other sectors discovered them too.
NextGen Robotics – a growth consortium for technology and knowledge
NextGen Robotics is Denmark's beacon of business for robots, drones, and autonomous ship operations – and a growth consortium that through advanced test facilities, ground-breaking demo projects and innovative collaborations will help advance digitalisation and automation in Denmark and globally. 
A united city behind the succesfull robotics ecosystem
Odense has demonstrated that the field within robotics range as one of the world's strongest ecosystems.
We have gathered all you need to know about building your business in Odense through the link below. 
Facts & stats
Did you know that the very first collaborative robot was invented in Denmark by three visionary roboticists in the city of Odense? A city now known as the world's capital of cobots. The area around Odense is a global stronghold for innovation and development within collaborative mobile robots, and more than 40% of companies work with collaborative robots related products.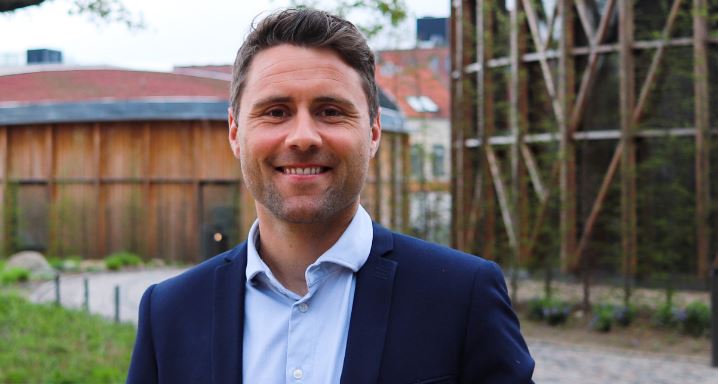 Rasmus Torpegaard Festersen
INVESTMENT MANAGER - ROBOTICS & DRONES
My drive is to help foreign companies in the robotics, drone, tech and automation industry to establish in Odense and connect them to relevant business partners and opportunities in the City of Odense.  My background is within business, sports and leadership in tech – and my knowledge and network are there to help you.