Denmark and USA are building a "robot-bridge"
Relations are good business in the long term – also in the world of robotics. That's why Denmark and USA are building a 'robot bridge' over the Atlantic. A new collaboration agreement between Odense Robotics, Denmark's national robotics cluster, and Pittsburgh Robotics Network, one of USA's largest robotics clusters, is the first step towards mutually strengthening the two robotics ecosystems.  
U.S. is one of the industry's biggest export markets
"Danish robotics companies have their eyes on the global market and the U.S. is one of the industry's biggest export markets. At the same time, the U.S. wants to forge closer ties to Denmark's robotics industry because of our strong ecosystem with research and development. This agreement is a win-win for both parties, and we look forward to getting started. Our ambition is to forge closer ties with many more international robotics clusters in the future."
"This is the start of a very exciting partnership. There are many similarities between our two ecosystems and together we can create new growth opportunities for companies in both countries. Pittsburgh is one of the world's leading robotics ecosystems, so we are proud to enter this collaboration agreement with Pittsburgh Robotics Network," says Odense Robotics CEO Søren Elmer Kristensen.
The agreement was announced at the automatica trade fair in Munich, where Odense Robotics and Pittsburgh Robotics Network are taking part in shared activities to promote industry collaboration.
Pittsburgh meets Denmark
Pittsburgh is one of the world's leading centres for robotics, autonomous systems and artificial intelligence. Similar to Denmark's robotics ecosystem, Pittsburgh's has grown as a result of cutting-edge research institutions developing innovative technologies, attracting companies and investment to commercialize these innovations, and creating a strong technology ecosystem with public support. Pittsburgh and Denmark can learn a lot from each other, says the director of the Pittsburgh Robotics Network.
"The increasing global demand for intelligent autonomous robotic solutions across multiple industries means that Danish and American robotics businesses share many opportunities, but also face similar challenges. This strategic partnership will help to create pathways to new growth opportunities for companies in our regions,"
"Denmark shares our vision for connecting global industry markets with our robotics business ecosystem for increased economic growth. Together, worldwide, we are working to accelerate the introduction and commercialization of robotic solutions across all industries, and we are therefore very excited to enter into this partnership with Odense Robotics."   
There are more than 100 robotics companies in Pittsburgh, which is home to the prestigious Carnegie Mellon University. The university founded the world's first Ph.D. programme in robotics in 1988 and houses the world's largest robotics research centre, the Robotics Institute. Research on self-driving cars began here in the 1980s and today the city is a global hub for this technology.  
Facts: Pittsburgt robotics ecosystem
100+ robotics companies 
20+ research and education institutions 
7,000 employees in the industry 
#1 World's first Ph.D. robotics programme 
The Pittsburgh Robotics Network (PRN) represents the companies and leaders who make up the Pittsburgh robotics ecosystem, which is anchored by Carnegie Mellon University and driven by 130+ robotics organizations developing applications for over 12 commercial industry sectors. It is the PRN's mission to accelerate the adoption of robotic solutions by bridging this large and dynamic community, to the world. The PRN executes this by making connections, expanding collective knowledge and positively influencing the advancement of robotic and artificial intelligence technologies.
Facts: Denmark's robotics ecosystem
500+ robotics, automation and drone companies 
12,700 employees in the industry  
EUR 990 million invested in robotics companies  
#1 The world's first collaborative robot was invented here 
In Odense more than € 900 million has been investment in the robotics companies and more than 160 companies have settled in Odense since 2016. These companies have created more than 9.600 jobs in Odense. Odense aims to be the best city in Denmark for startups to scale and grow. Visit the LinkedIn profile here for more information.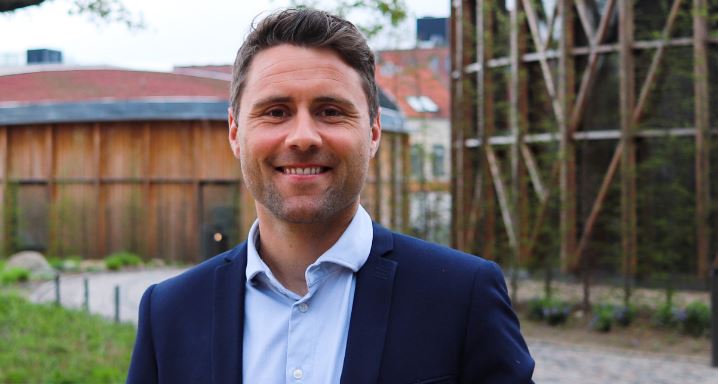 Rasmus Torpegaard Festersen
INVESTMENT MANAGER - ROBOTICS & DRONES
My drive is to help foreign companies in the robotics, drone, tech and automation industry to establish in Odense and connect them to relevant business partners and opportunities in the City of Odense.  My background is within business, sports and leadership in tech – and my knowledge and network are there to help you.
Martyna Waliszewska
Investment Manager - Seed & Venture
An engineer by trade, Odenseaner by heart. My focus lies within identifying investor-ready cases, developing our investor network of business angels, venture capital, and corporate venture capital, and bridging the investment gap. Ultimately, we are creating growth through investments in the robotics, drones, and automation industries.