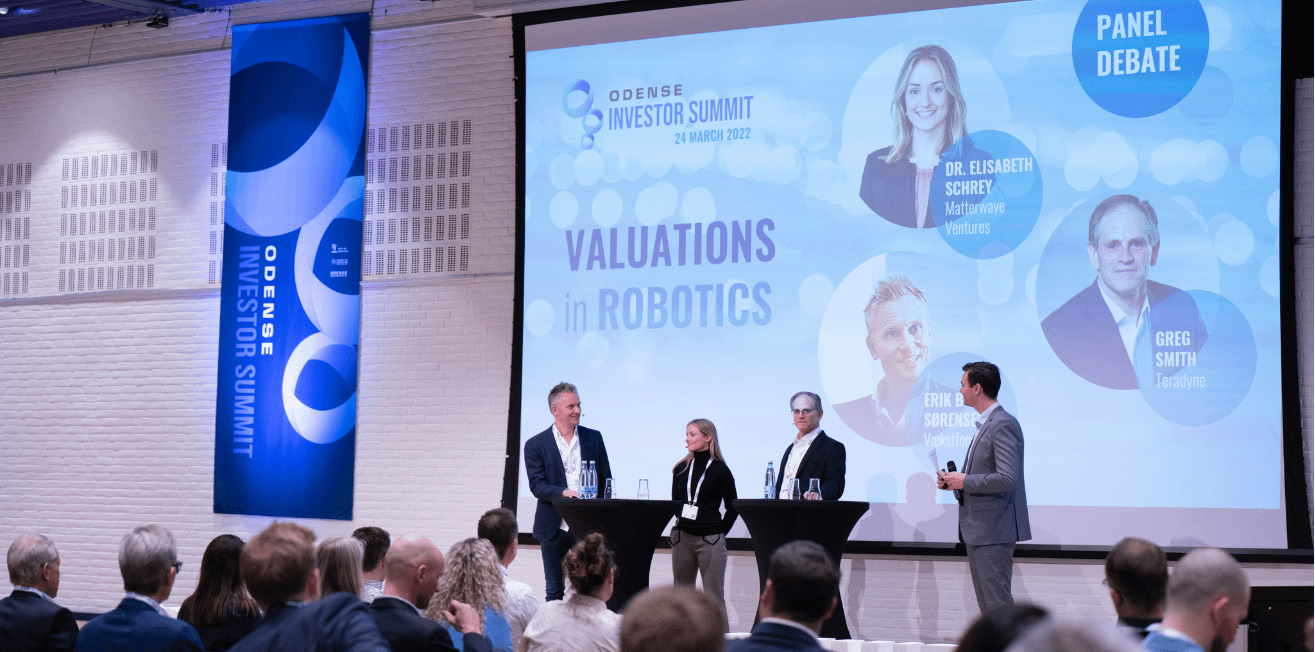 Looking back on some of the highlights of 2022 in the Danish Robotics Cluster: A year in review
Let's look back at the year in the Danish Robotics industry, and a peek at what lies ahead in 2023. Here are some of the highlights.
ACQUISITIONS, EXITS, CAPITAL INJECTIONS, MERGERS AND INVESTMENTS OF THE YEAR
With an investment of EUR 45 million from A.P. Møller Holding, Blue Ocean Robotics is accelerating its growth and product development.
The Danish automation company BILA A/S acquires the machine builder Kilde Automation to ensure long-term growth and strengthen the international competitiveness of both parties. In addition to Kilde Automation A/S, BILA Group has recently acquired PJM A/S, Reo-Pack, the service department at Blaaholm and Dan Palletiser, so today, the automation house is present in 11 Danish cities as well as in Norway and Sweden.
German industrial group STIHL Acquires 23% of Danish Robotics Company, TinyMobileRobots. STIHL's robotic lawnmowers share a strong technical kinship with the advanced and fully autonomous line-marking robots produced by TinyMobileRobots, which are intended for use in sports fields, road construction, agriculture and more.
Under the Mobile Industrial Robots (MiR) name and led by President Walter Vahey, the two Teradyne companies became a single supplier of autonomous mobile robots (AMRs), accelerating technology development and market leadership worldwide.
Esben Østergaard, who prefers to invest in robots which can make the world a better place, made his 2nd investment within maritime robotics (the 1st was Blue Atlas Robotics) when he decided to become part of the investor team behind SubBlue Robotics. Earlier this year, Thomas Visti and Ralf Astrup also joined the strong team of investors, which also counts Anders Koksbang.
GE Renewable Energy, Holcim, and CEMEX invested in the Danish robot company COBOD International. The investment will give GE Renewable Energy additional access to COBOD's unique 3D Printing technology. COBOD provides the largest 3D concrete printer in the world. 3D-printed buildings are more advantageous than conventional building methods because a 3D printer saves many resources compared to traditional methods: It goes faster, requires fewer workers, and makes the working environment healthier. More sustainable and locally sourced materials can also be used to minimise transport and delivery time.
NextGen Robotics
SDU and several partners established the world's first centre for developing automation and robots for building large structures such as wind turbines, ships, and buildings. The Large Structure Production Centre received DKK 87.6 million to create a unique laboratory on a large scale. LSP is the most significant component in the Funen business hub, with 65 partners in the consortium, Nextgen Robotics.
Also, the drone test centre at HCA Airport received DKK 8.6 million DKK, the development of automated ferries on South Funen received DKK 7.9 million, and the project House of Robotics received DKK 1.6 million.
Awards, winners, and celebrations of the year
Denmark is no. 1 in deploying artificial intelligence
Denmark is no. 1 in deploying artificial intelligence compared to the rest of the EU. 24 % of Danish businesses have embraced AI, according to SMV Denmark.
EasyRobotics celebrates a milestone: 1,000 robot cells installed. The Danish company EasyRobotics, founded in 2014, recently shipped a large order for dispatch to the United States, comprising 70 complete solutions for automated machine tending. The Danish Robot environment also has a share in the success:
There's a spirit of generosity and helpfulness that permeates the entire robot family, where you're welcomed with open arms, irrespective of whether you're new to the field or already have a billion in the bank. It's been an eye-opener to experience an environment where there's such a high level of cooperation across companies, where everyone works to generate synergies and where there is a sense of camaraderie you will not find in other sectors, relates Anders Kjempff, CEO at EasyRobotics.
March 2022
The robotic fair R-22 in Odense gathered the robotics, automation and drone industry from across Denmark to explore new technologies and opportunities. The events draw attention from media worldwide, such as BBC News, The New Arab, Rocking Robots, The Robot Report, AutomationsPraxis, Automation.se, Telegraaf.nl, and Merger Market.
Odense Investor Summit took place both in Odense during R-22 and in Munich during Automatica. Fifteen technology companies presented their automation inventions in front of 300 investors in Odense, and 15 companies pitched on the podium in the Startup Arena of Automatica trade show with 45,000 attendees.
PALOMAT celebrated 30 years of export success: Danish pallet magazine was kick-started by a fatal accident at a chewing gum factory. In 1992, two Danish smiths thought stacking pallets from below would be faster and safer. Thirty years later, 15,000 copies of this blacksmith's invention, the PALOMAT, are in warehouses and production plants worldwide, improving the work environment, productivity and space optimisation. 
July
During Tour de France 2022, which started in Denmark, cycling fans paid tribute to the late Chris Anker Sørensen. Robots from Turf Tank used 200 litres of paint to create the mural of Anker Sørensen on a football pitch. The painting was seen from helicopter pictures when the peloton passed Holbæk in Denmark.
August
At the International Drone Show in Odense Global Drone Industry Drawn To Denmark's Outstanding Drone Environment. A Swarm of hi-tech bees surrounded the Hans Christian Andersen Airport, which has become an international hub for drone development.
At Gateway to Europe, visitors were able to get the latest insights from the Danish ecosystem, and a chance to learn about how easy it is to set up a business in Denmark and tap into the world's leading robotics ecosystem.
October
IFR and DIRA present the world robotics statistics: Denmark is falling behind in robot density. Denmark has fallen out of the global top 10 in the deployment of robots and is now in 12th position, with 234 robots per 10,000 employees. In 2014 – just seven years ago – Denmark occupied a healthy 5th position globally.
November – end of the year
Denmark's robotics industry joins forces to establish a new fund for robotic startups. Odense Robotics StartUp Fund will offer generations of robotics and drone startups from Denmark and abroad. The fund's DKK 18.4M capital is made up of donations from some of Denmark's most influential robotics investors and companies and prominent commercial foundations behind some of the country's largest industrial companies.
Robot Orders and Case studies
New robotics products launched in 2022
– Robots and automation solutions from Denmark spread out to more and more industries
Manufacturing companies producing many small series often face the challenge that changing from one series to another requires extra resources. The new solution StackIT automates the setup from start to finish – programming the robot and enabling CNC machines to run 24/7 and change between series with the touch of a button. Hannemann Engineering developed StackIT.
Sebastian Schlicker launched the new platform Supplybase. It streamlines activities related to outsourcing part manufacturing.
Denmark writes world history: A drone from a university charges the battery directly on high voltage line. A specially designed drone from the drone centre at the University of Southern Denmark has, for the first time, connected directly to a high-voltage line with 150 kV in a test in the city of Odense. This allows drones to autonomously inspect and work directly on the lines in the 7000 km Danish network, as part of the green transition.
The Danish Industry Foundation launched a map of Denmark's 400 test facilities. This outline shall stimulate more innovation, research & development among Danish manufacturers.
Together with researchers at the University of Southern Denmark, Bionic System Solutions has developed a new robot-controlled camera inspired by lizards like geckos and agamas. For instance, this technology can aid the short-range detection of drones to increase security for a defined area.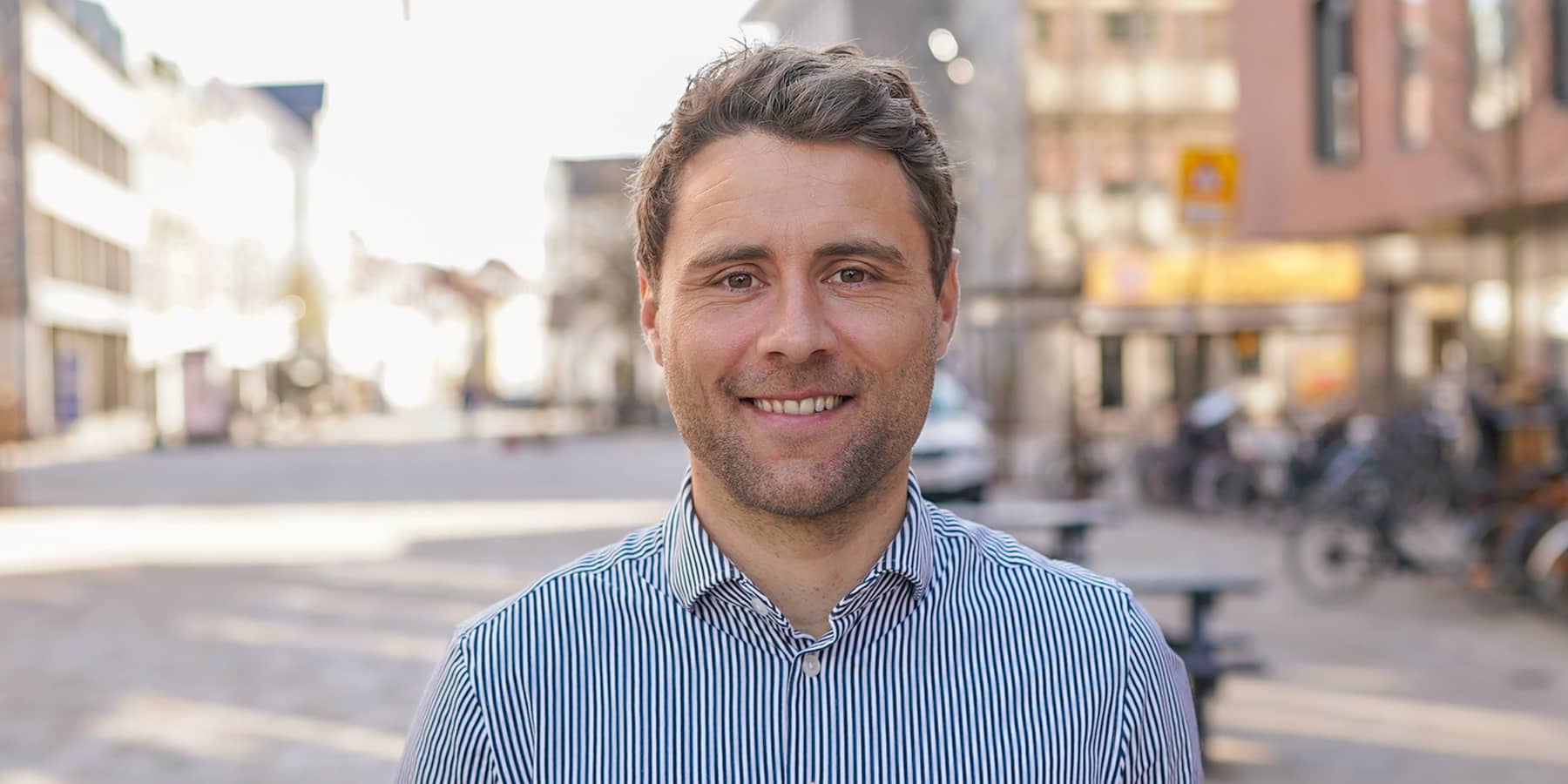 Rasmus Torpegaard Festersen
INVESTMENT MANAGER - ROBOTICS & DRONES
My drive is to help foreign companies in the robotics, drone, tech and automation industry to establish in Odense and connect them to relevant business partners and opportunities in the City of Odense.  My background is within business, sports and leadership in tech – and my knowledge and network are there to help you.