Odense-based fund will invest DKK 18.4M in robotics startups
Improved access to capital, unique sector knowledge, and a strong incubation environment. That's what the commercial fund, Odense Robotics StartUp Fund, offers generations of robotics and drone startups from Denmark and abroad.
Robotics startups can struggle to get the help needed to turn geat ideas into successful business
The hub is open to applications from robotics and drone startups from Denmark and abroad. Aside from receiving a loan, startups are part of the world-class incubator at Danish Technological Institute in Odense offering office space and advanced technical equipment in an innovative environment focused on hardware development.
Startups can gain exclusive access to cutting-edge robotics expertise from a team of specialists. Some of the fund's founders serve as mentors to startups, providing valuable advice based on their extensive industry experience and in-depth sector knowledge. Additionally, the Danish Technological Institute's technical experts advise startups on technology development, while Odense Robotics' coaches offer guidance on business development.
"The vision behind Odense Robotics StartUp Fund is to create Denmark's future robot successes. The fund provides promising robotics startups with access to capital, unique specialist knowledge, and an internationally acclaimed incubator at Danish Technological Institute. And because successful startups pay back to the fund, which in turn reinvest in new startups, the fund will help create generations of robot startups over the coming decades. It's a completely new model that we've not seen before in Denmark," says Mikkel Christoffersen, CEO of Odense Robotics, which is a partner in the fund along with Danish Technological Institute.
Investments and funding are expected to support the sustained growth of the robotics environment in Odense
The fund, with a capital of DKK 18.4M, aims to invest directly in at least 30 startups over the next six years, with the investment taking the form of a loan that startups can repay over time. If a startup is acquired, they must make an additional payment. The payments generated provide returns, which the fund uses to support new startups. This approach makes the fund a sustainable long-term model that generates a steady stream of startups for years to come.
"We have donated to Odense Robotics StartUp Fund because we want to contribute towards the continued growth of the robotics environment in Odense and Denmark. It's about giving robotics entrepreneurs better access to loan capital, professional support and good facilities. By joining forces with other strong players, we hope to make a difference for generations of robotic startups in the future. The robotics community here has given us so much, so we feel we want to give something back," says Enrico Krog Iversen, CEO of OnRobot and former CEO of Universal Robots, who has donated personal funds together with robot investor Bente Iversen.
Odense Robotics StartUp Fund is open for applications and screen continuously Danish and international startups. Find all information about the Odense Robotics Startup Fund here: https://robotstartupfund.dk/
expert knowledge and incubator boost robotics startups
Several companies have been part of the world-class incubator at Danish Technological Institute in Odense (Odense Robotics Startup hub). Purple Robotics, Tendo, and Coalescent Mobile Robotics are perfect examples of how effective accelerator programs can help robotics startups. Common for them, are their successful achievement during and after their time in the hub.
Purple Robotics was acquired by OnRobot after their time in the hub, one of the truly significant robot industry endeavors. Tendo, an international robotics company who has part of the incubator in 2017, achieved several investments afterward, and in 2022 the company was listed on the stock exchange.
Coalescent Mobile Robotics has raised several million DKK, to finance Coalescent Mobile Robotics' entry into the European market. The company has secured capital from some of the most prominent Robotics investors around, including Niels Jul Jacobsen, who founded Mobile Industrial Robots and is now CEO at Capra Robotics and one of the founders of the new Odense Robotics Startup fund, and Enrico Krog Iversen CEO at OnRobot, formerly CEO at Universal Robots and also the founder of Odense Robotics Startup fund.
Other business leaders, who have donated their own capital to the new fund are Ralf Astrup, Investor and former CEO and Co-owner of Cabinplant, and Thomas Visti, CEO & Founder of Visti Unlimited and former CCO of Universal Robots and CEO of Mobile Industrial Robots. Universal Robots is also among the founders along with C.N.N. Holding, and a series of prominent Danish commercial foundations: Bitten & Mads Clausen's Foundation, Den Faberske Fond, Entreprenør Marius Pedersens Fond, the Grundfos Foundation and, The Novo Nordisk Foundation.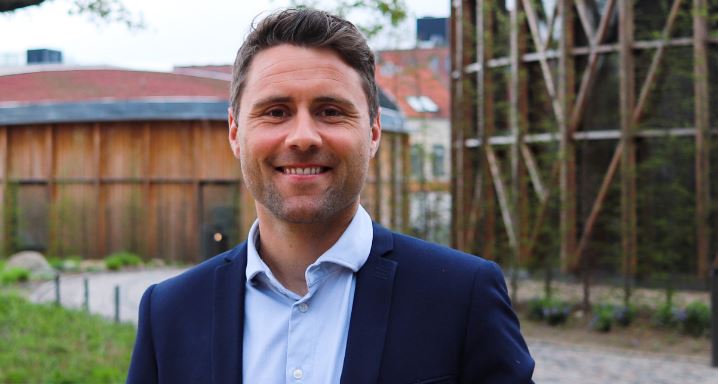 Rasmus Torpegaard Festersen
INVESTMENT MANAGER - ROBOTICS & DRONES
My drive is to help foreign companies in the robotics, drone, tech and automation industry to establish in Odense and connect them to relevant business partners and opportunities in the City of Odense.  My background is within business, sports and leadership in tech – and my knowledge and network are there to help you.