World-class badminton event collaborates with innovative robots
Robot arms that deliver shuttlecocks to world-class players and mobile robots capable of carrying the players' bags and distributing programs to the spectators are just a few of the features included in the extensive city branding and business activation. Both television viewers and spectators will be exposed to these innovations during this year's VICTOR DENMARK OPEN at the Jyske Bank Arena in Odense. Experts say it is both creative and relevant.
Robots invade Victor Denmark open 
The winners of the VICTOR DENMARK OPEN in badminton were determined a few weeks ago, with the assistance of collaborative robots. These intelligent robots, capable of working alongside people and relieving them of repetitive and exhausting tasks, didn't deliver the crucial shots. Instead, they ensured that players had a steady supply of fresh shuttlecocks and took care of their bags, allowing them to focus on their game. During this year's highly-profiled badminton tournament in Odense, these 'cobots' played a significant role.
"Over the past 12 years, Odense has firmly established itself as an international hub for robotics. This global position of strength holds a significant presence in our city, making it only natural for robots to be a part of VICTOR DENMARK OPEN. With hundreds of millions of followers, the tournament is undoubtedly immensely popular in Asia. Therefore, we anticipate demonstrating that when one of the world's greatest badminton tournaments is hosted in the world's leading robotics city, it will be something truly special.."
Asian markets are important
In 2022 almost 2 out of 3 of all new robot installations were in Asia. This encompasses more than 400,000 installations. Furthermore, since 2017, the number of installations in Asia has increased by nearly eight percent on average per year.
"One should not underestimate how important the Asian markets will become for us in the coming years. When it comes to utilizing robots for tasks in the manufacturing industries, and increasingly in the service sector, China, Japan, and South Korea stand as international frontrunners. To utilise VICTOR DENMARK OPEN to showcase how skilled Odense and Funen are at working with collaborative robots definitely gives a boost to our endeavors to bring Danish robot companies closer to the Asian market." Says CEO of Denmark's national robot cluster Odense Robotics Søren Elmer Kristensen, who just recently, together with Odense's mayor, returned from South Korea.
Allowing VICTOR DENMARK OPEN to be embraced by robots appears to be a wise branding and business decision. Kenneth Cortsen, a PhD researcher in sports branding at the University College of Northern Denmark, points to the FIFA World Cup and Wimbledon as examples of similar branding initiatives that incorporate both creativity and relevance in brand activation:
"Asians love badminton and the sport is such a cultural phenomenon in this part of the world, that there is a great opportunity to get one's message across. To be able to show collaborative robots, in between smash and clear, who on top of it are integrated in phases of the match, is one of the best and most innovative examples of city branding I have witnessed. It is on par with the creativity we saw during the Tour de France, where a Maersk container vessel sailed under the Great Belt Bridge while the peloton simultaneously crossed it. " 
Badminton Denmark, who are hosting VICTOR DENMARK OPEN for the 17th time in Odense, are also very thrilled about the robots' part at this year's tournament:
"With these robot initiatives, we add another layer to the cooperation we have with our host city Odense, and Destination Fyn. In international badminton, we have, over a period of years, shown the way in regards to the overall event set-up and with these robot initiatives, we will, hopefully once again, stand out in a fun and exciting manner. We are happy to contribute to Odense's position as a leading robotic city and I hope this will add an extra dimension to the spectator experience. " 
It's not only the players and the service judge who receive assistance from the robots. In the fan zone, various versions of Odense's trademark robots will perform a range of tasks, such as entertainment, information dissemination, and attendee services for the spectators. Additionally, in the audience, you can identify guests who are not just here to watch badminton. Several local companies are seizing the opportunity to foster and enhance relationships with their badminton-loving Asian partners.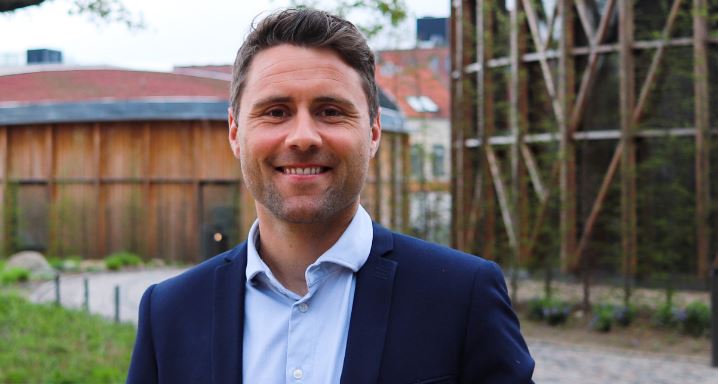 Rasmus Torpegaard Festersen
INVESTMENT MANAGER - ROBOTICS & DRONES
My drive is to help foreign companies in the robotics, drone, tech and automation industry to establish in Odense and connect them to relevant business partners and opportunities in the City of Odense.  My background is within business, sports and leadership in tech – and my knowledge and network are there to help you.