Odense & Seoul strengthen their collaboration on robotics
Odense and Seoul are both among the world's leading robotic cities – and now the cities and their robot clusters are getting ready to take the next step towards an even stronger and formalized collaboration on conditions which strengthen robotics companies. This conclusion was reached during a meeting in the capital of South Korea between the mayor of Odense, Peter Rahbæk Juel, the Vice Mayor of Seoul, Odense Robotics, and the Korean robot cluster.
strengthen Cooperation agreement
Since 2014, Odense and Seoul have had a cooperation agreement that encompasses various aspects, including business collaboration. This existing cooperation is what the Mayor of Odense, Peter Rahbæk Juel, Vice Mayor of Seoul, Kim Tae Kyoon, and Odense Robotics have now committed to strengthening.
Seoul is currently in the process of developing an advanced robotics district called Suseo, with the aim of attracting billions in investments. They draw inspiration from the collaborative model in the Odensean robotics cluster, where cooperation between the municipality, the university, and local companies is central to their success. This is why Odense and Seoul are moving forward with their collaboration on South Korean robotics clusters, examining how they are structured, and exploring how companies affiliated with Odense Robotics can benefit from closer ties with South Korean firms. From the South Korean perspective, there is also a desire to establish a stronger connection with the University of Southern Denmark.
''The construction of the successful robotics cluster in Odense is very impressive. I especially believe that the collaboration between research and the industry is essential – Just as it is done in Odense with the University of Southern Denmark. We look forward to developing work possibilities together, as we have discussed in today's meeting.''
The vice mayor of Seoul highlights amongst other things, the ambition to make Odensean robotic companies a part of their new ambitious Science-Museum which is on its way in Seoul. The focus is on robots and the presentation of robotics technology. It is here Seoul wishes to make the Odensean ecosystem a part of the exhibit. Besides this, Seoul wants to be invited to be a part of R24, which is the largest robot exhibition in the North and is being held in Odense next year.
Highlight Danish robotic solutions in Asia
Odense Robotics and the Korean robotics cluster, KAR, have had a collaboration agreement since 2018. In a meeting earlier in the week there was a wide agreement that the relations between the clusters are ready for a more active collaboration.
''Our strategic partnership with Denmark and Odense is only going to grow. We are looking forward to an active collaboration to build a lasting cooperation network between robotic companies – this also involves coworker exchanges.''
This is an ambition which Odense Robotics agree with – and the director for Odense Robotics, Søren Elmer states the following:
''Collaboration with central actors in the Korean robotics industry is strategically important for Odense Robotics and our member companies. It will help highlight Danish robotic solutions among potential collaboration partners in Asia, which is an important market for robotic companies. As a national cluster, we are here to help our companies with speeding up their internationalization by creating visibility and partnerships, and it is especially exciting that we can discuss the possibility of a long-term collaboration with actors from the robotic ecosystem in Korea.''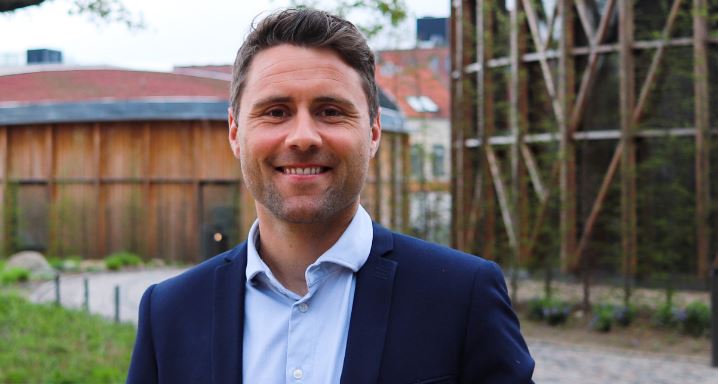 Rasmus Torpegaard Festersen
INVESTMENT MANAGER - ROBOTICS & DRONES
My drive is to help foreign companies in the robotics, drone, tech and automation industry to establish in Odense and connect them to relevant business partners and opportunities in the City of Odense.  My background is within business, sports and leadership in tech – and my knowledge and network are there to help you.